"Screw the FDA. I'm going to be DOA."
Ron Woodruff (Matthew McConaughey), a newly diagnosed and very sick man with AIDS, says this to his doctor Eve Saks (Jennifer Garner) in the summer of 1985. She had just told him that he can't get the then FDA unapproved AZT, or any of the promising drugs then only available in Europe. First, Ron bribes a hospital orderly to steal the AZT being used in the study Ron can't get into. Then, after he figures out the AZT does more harm than good, he starts buying other unapproved medications on the black market. He gets them into the hands and bodies of other people with AIDS through the Dallas Buyers Club, a legally problematic scheme that he borrowed from New York and San Francisco, where other people with AIDS were struggling to find some treatment that actually worked. Ron Woodruff was diagnosed with AIDS in 1985, and in the movie, he is given a month to live. He died in 1992.
Dallas Buyers Club is the story of a man who fought the reprehensible policies of the FDA and the medical establishment during the worst of the AIDS crisis. It is also the story of how a man was transformed from a womanizing, homophobic redneck drunk into a compassionate, responsible hero. The story is a many ways a typical triumph over adversity story, with an obvious structure and ending, and it is also typical in most of the Hollywood stories of the early AIDS epidemic, in which straight people are the heroes and gay people the victims.
That said, Dallas Buyers Club is no Philadelphia, because Ron Woodruff is not a sanitized, perfectly acceptable protagonist like Tom Hanks's Andrew Beckett. (I'd argue that Beckett is not that film's hero, who was Becket's lawyer, played by Denzel Washington.) While he ends up lovable, for much of the film, he's, well, a jerk. And the film's second lead, the transgender woman Rayon (Jared Leto), a composite invented by the screenwriters, is one of the most complex, interesting, and affecting characters in any of films about AIDS.
For both Woodruff and Rayon, the writers have produced funny, crass, and pointed lines and many memorable scenes, despite the prison of easy acceptability that is the screenplay's structure. McConaughey, giving the performance of his career, lost 38 pounds for the role and delivers strings of Texasisms, angry monologues, and mountain of expletives with the gusto and emotional honesty that his last few years as a character actor have only hinted at him being capable of. For example, after Dr. Saks tells him to go to a support group, Woodruff says, "I'm dying, and you're telling me to get a hug from a bunch of faggots."
As great as McConaughey is, he is playing a version of McConaughey. Leto's Rayon is a more complete and more astonishing transformation. Leto not only is unrecognizable, which has a lot to do with his make-up artists, but the depth of his characterization is to be marveled at. Warm, witty Rayon is not a saint either, and her behavior bounces back and forth between selfish and magnanimous, between sympathetic and pitiable. I don't like how Rayon is used by the writers to make such blunt points and to be the pivot for so much of Woodruff's transformation. But Leto took their plot device and turned it into a thing a beauty.
Much of why the movie works is the beautiful but raw direction of the French-Canadian Jean-Marc Vallée. His scenes are tightly controlled and packed with emotion, and he creates a great deal of art in his visuals, from bull riding shot through the slots of a wooden gate to a swarm of butterflies lit by flickering fluorescent lights.
Dallas Buyers Club
Directed by Jean-Marc Vallée
Written by Craig Borten and Melisa Wallack
Starring Matthew McConaughey, Jared Leto, and Jennifer Garner
At Landmark Hillcrest and La Jolla ArcLight
Rated R
Read More
There's nothing remotely interesting about Blue is the Warmest Color except everything. The three-hour lesbian love story in French that won the Palm D'Or at Cannes this year features all of the oldest tropes of both love stories and queer love stories. We have the same boy meets girl, loses girl, tries to get girl back again plot except in Blue, it's just with two girls. And like almost every queer love story, coming out is a central theme; girl realizes she's a lesbian when she falls in love at first sight, she gets called slurs, and she hides her love and her lesbianism. If you've seen any queer themed love stories, you've seen Blue is the Warmest Color. But you haven't. Because only once in a decade of blue moons is there a film that does all of these things so effectively, creating such a moving and beautiful experience.
Adele (Adèle Exarchopoulos) is a high school student and a little sexually confused. At her friends urging, she begins dating a sweet, gorgeous boy (Salim Kechiouche) but after they have sex, she retracts from him, because she's confused about her attraction to a woman. One night, a gay friend takes her to a gay bar and she meets Emma (Léa Seydoux), the blue-haired college student she had seen on the street one day and had been immediately infatuated with. When Emma picks her up at school, Adele's friends mercilessly bully her about being a lesbian, which Adele denies being. Despite this, Adele and Emma stay together, fall in love, and have a lot of sex that is filmed explicitly and at length. Eventually, as the years go by, Adele becomes jealous of Emma's friends and her success, and she becomes tempted by another.
In the hands of an American mainstream director, Blue would have been 90 minutes, maybe 105. But Abdellatif Kecheche's film is two hours and 59, and this is not because there is so much dialogue or so much action. Kecheche uses lengthy shots, sometimes of scenery or of walking, giggling, eating, or mingling at a party to create the mood his actresses are feeling; it is almost impossible not to know and understand and empathize with them. With his slightly washed out, jagged hand-held digital camerawork, Kecheche does not create particularly beautiful images as much as specific and powerful emotions.
However, Kecheche was only able to succeed with these methods because his actresses are so extraordinarily talented. As Adele, Exarchopoulos gives perhaps one of the most moving, most believable depiction of a confused girl in love I have seen. Not since Claire Danes in My So-Called Life have I seen a young actress create such an emotionally resonant performance, and unlike Danes, Exarchopoulos never seems to be acting. She just is experiencing life on screen. Seydoux, as the older, more experienced half of the couple, is less powerfully sympathetic, despite two great scenes. She just doesn't have the same amount of resonance because she experiences much less strife.
Much has been made about the long and explicit sex scenes. As I felt with the much more explicit scenes in I Want Your Love (about gay men in San Francisco), I didn't feel they were as needed for character development and plot as their most passionate defenders do. But in both films, they feel and clearly are real, so the authenticity to the sex adds to the authenticity and power of the emotions. And that's another way how Blue is the Warmest Color is so very different from your typical romance.
Blue is the Warmest Color
Directed by Abdellatif Kechiche
Written by Abdellatif Kechiche and Ghalia Lacroix
Starring Adèle Exarchopoulos and Léa Seydoux
Rated NC-17
Read More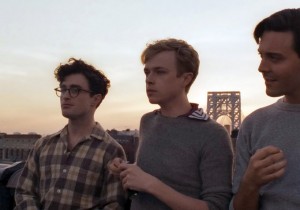 A large number of writers have been credited with the phrase "kill all your darlings." I had always thought it was Dorothy Parker, and the Internet claims it is William Faulkner or Stephen King. A recent Slate article places its origin as a writing guide from 1913. Whoever said it first, it's been a key piece of advice for writers for decades. Get rid of your most precious, pretentious, silly, extravagant passages, sentences, and scenes. Kill them, your darlings. In Kill Your Darlings, John Krokidas and Austin Bunn's wonderful film about the beginnings of the Beats, it is spoken by an English professor with the usual purpose, but it also means a great deal more. It is also about getting rid of your personal pretensions, petty moralities, tradition, constraints, and fears. And actual murder. One of the first scenes in the film is Lucien Carr (Dane DeHaan) holding the dying body of David Kammerer (Michael C. Hall), who Carr had called his guardian angel and who had been stalking him for years and who Carr stabbed before sinking him into the Hudson River.
Read More
One of the first movies I reviewed for San Diego LGBT Weekly was Heartbeats, a stunningly beautiful update of Jules & Jim made by queer Quebecois wunderkind Xavier Dolan. It lasted in San Diego for about a week; I am still the only person I know who has seen it. His next movie Laurence, Anyways won awards at festivals all over the world, including Un Certain Regard Best Actress at Cannes and Best Canadian Feature at the Toronto Film Festival. And yet it never made it to San Diego, or anywhere else in the United States besides New York and Los Angeles. It is now on DVD and On Demand, which is how I watched it, in awe, breathless, and finally in tears, not only because of its bittersweet ending but also for its visual, aural, and thematic splendor. Xavier Dolan is one of the world's great directors, and outside of Canada and France, almost no one knows who he is. And the guy is only 24.
Laurence, Anyways is the story of lovers Laurence and Fred (short for Frederique) over ten years, from 1989 to 1999, as they weather Laurence's transition from man to woman. Unlike some of the best-known transgender film narratives, like Boys Don't Cry and TransAmerica, Laurence, Anyways isn't simply focused on acceptance, discrimination, and honesty, but rather on the enormously complex and painful ramifications of the transition on relationships. Laurence and Fred are still in love, even after Laurence reveals that he has always been a woman trapped in a man's body. But Fred does not know how to be in love with a woman, and Laurence doesn't know how to stay being a man to be with her.
My initial description of Laurence, Anyways was that it seemed to be a transgender The Way We Were. But the latter film was designed to appeal to a mass audience: huge movie stars, risk-less filming, easy emotions. While I'm sure Dolan wants his films to be seen by millions, he clearly is uninterested in pandering to them. His screenplays require work from the audience, with the kind of spoken and obvious verbal exposition ("I had an affair") left out in favor of expressionistic tableaus set to iconic songs. In one turning point, Fred wears a lace ball gown and literally floats through a glam rock black tie party while Visage's New Wave classic "Fade to Grey" plays. At another, Laurence and his mother are barely visible silently talking under an umbrella, the sound and sight of symbolic pouring rain dominating the shot. I was watching the film on DVD and rewatched several of these scenes, muttering "Oh, my God" over and over.
Still, none of Dolan's visual flairs could work very well without actors as brave and raw as Melvil Poupaud (Laurence), Suzanne Clement (Fred), and Nathalie Baye (Laurence's mother). Poupaud who is handsome both as man and a woman does the requisite slow transition from masculine to feminine fretfully, subtly, and then finally confidently. His turns as ashamed, impish, despairing, furious, and enamored are all equally nuanced, sympathetic, and believable. Clement is a much more bombastic actress; her Fred feels everything without control or modulation. Dolan shows her rage and sorrow and glee with quick, kaleidoscopic cuts. The scenes sometimes seem like cubist depictions of emotions. Clement's performance is the emotional heart of the film, as her love for Laurence is much easier to depict and understand than Laurence's need to be a woman. That need is confusing for many characters, not just Fred, but also Laurence's mother, a profoundly cold woman who provided little to her son until he became her daughter.
The movie is long – two hours and 45 minutes – and in that space, I think Dolan and Poupaud make a few missteps, mostly in communicating Laurence's impetus to decide to transition. This could have been glossed by wordy exposition, but that's not what Dolan does. And thank God, because what he does do is so extraordinary.
Laurence, Anyways
Written and Directed by Xavier Dolan
Starring Melvil Poupaud, Suzanne Clement, and Nathalie Baye
Unrated
On Demand and on DVD
Read More
There's a sequence of scenes in Alfonso Cuarón's space thriller Gravity about half way through the film that starts tense, becomes nail-biting, and then explodes – literally and figuratively – into a mind-boggling orchestra of space disaster action. I was clenching my boyfriend's thigh and clenching my jaw at the beginning of it, but when it reached its full throttle, I was slapping his leg and laughing and bouncing up and down in my chair. I wasn't laughing at the movie; I was laughing the way I have when I am on a roller coaster and it is throwing me through the most absurdly improbable flips and loops. Cuarón's use of CGI, 3-D, and IMAX photography is so skilled that I found myself nearly ducking the space shrapnel hurtling towards the audience. Such an enveloping, unnervingly real film, Gravity is an actually astonishing experience.
Read More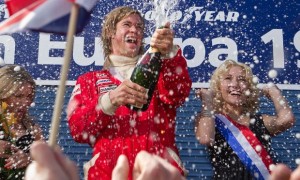 I'm sure some evolutionary psychologist has come up with a theory about why so many men get so much pleasure out of driving exceedingly fast. Speed, whether on foot or on a horse or in a mechanical contraption, makes us feel invincible, making us feel either that we can out run any enemy or catch any sort of prey. And being faster than someone else means that we are probably fitter, and more attractive to whoever we might want to have sex with. This need for speed gets at something very primal inside our heads; that must be one of the reasons that movies about speeding, focused on races and chases, are made in order to increase your heartbeat, to give you a rush. And most of the movies are not very good.  Ron Howard's rather obviously named Rush is not one of those, however. It's a good, but by no means great, movie about racing cars, chasing women, and the costs and benefits of rivalry.
Read More