Beautiful is a rather strong word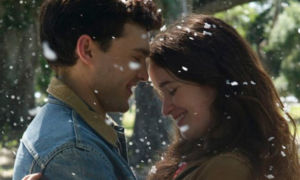 One of the most repeated complaints about Hollywood is its lack of originality. (Others include: It's too liberal, it's too conservative, it's homophobic, it's pro-gay, it's too populist, it's elitist, and so on.) Considering the number of remakes, reboots, and rip-offs of great or popular movies we've been offered in recent years – from Clash of the Titans to Footloose, from The Amazing Spiderman to The Bourne Supremacy, and Harry Potter wannabes from The Seeker to Percy Jackson & The Lightning Thief – this criticism is not unfounded. With the exceptional financial, if not artistic, success of the Twilight films, supernatural teen romances have shown up everywhere. It's how we got The Vampire Diaries and Red Riding Hood. And it's how we ended up with Beautiful Creatures. The authors of the book the film is based on even brag about its similarities to other work, hyping a quote from School Library Journal claiming, "Give this to fans of Stephenie Meyer's Twilight or HBO's True Blood series, and they will devour all 600-plus pages of this teen Gothic romance." The good news is that the movie is neither extremely long, nor terribly acted, nor soft core horror porn.
Evan (Alden Ehrenreich) is a book-loving jock in small town South Carolina who is inexplicably drawn to his high school's newest student, a dark-haired outcast named Lena (Alice Englert). It turns out she's more than socially awkward; the silly religious fundamentalists in the town think her family, the town's founders and richest residents, are Satan worshippers. They are not totally off. While they may not pray before a horned red man with a pointy tail, they do use magic. They call themselves casters, and they are either "light" and good or "dark" and bad. When the female casters turn 16, they become one or the other when some mystical, mysterious force decides what their true nature is. Lena's birthday is approaching, and her family, particularly her protective Uncle Macon (Jeremy Irons), is very concerned that her love for a mortal will lead to her to become dark, like her villainous mother who has possessed one of the silliest fundamentalists Mrs. Lincoln (Emma Thompson).
The plot is basically a standard supernatural star-crossed lovers tale, one that is rather familiar to young consumers of contemporary pop culture. But there is a snarky, dark edge to Beautiful Creatures, partly because of the potential evil in Lena but partly due to the wry insults the teens throw at each other. Richard LaGravenese's screenplay has a simple structure, but the repartee between the characters, particularly when it involves hyper-literate Ethan or delightfully evil Mrs. Lincoln, is where the fun comes in. It's also nice to see a romantic lead in a teen-oriented film express his love for Kurt Vonnegut, J.D. Salinger, and Harper Lee, and even nicer that the Ethan and Lena bond over their affection for, of all people, rough and tumble drunk Charles Bukowski.
I'm not sure how LaGravenese managed to assemble such an incredible cast for a genre film. Lena and Ethan are unknowns, and while Englert is perhaps a bit too mopey in her role, Ehrenreich oozes a witty, sexy charm; I hope we see more of him. Thompson has great fun playing evil, something like Serial Mom crossed with Voldemort. I wish Irons was given a bit more to do, since he can deliver an evil speech as good as any British Oscar winner. Similarly, the great Viola Davis plays a stereotypical wise black woman and her wise statements are not particularly exciting, though they do propel the plot. Emmy Rossum has great fun as Lena's evil snake of a cousin, though better than her lines are her dresses, which can only be called vampire couture.
Beautiful Creatures
Written and Directed by Richard LaGravenese
Starring Alden Ehrenreich, Alice Englert, Jeremy Irons, and Emma Thompson
Rated PG-13
At your local multiplex