More fun than actual a cappella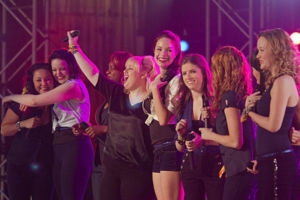 My boyfriend and I laugh and laughed and laughed.
Why college campuses, especially on the East Coast, are overpopulated with a cappella groups is a mystery to me. Virtually no one who isn't on a college campus pays to see a cappella groups. No one buys their albums, and I don't know anyone who can name an a cappella group that isn't native to their alma mater. But they're a staple of college entertainment, both real and ironic. Because, even though some a cappella can be awesomely inventive (think Bobby McFerrin), a lot of it can be irredeemably cheesy (think the worst numbers on Glee). This makes it a great subject for the hybrid teen comedy-competition genre, and that's how Pitch Perfect came to be. Very, very loosely based on a nonfiction book about competitive a cappella groups, the film is written by 30 Rock writer Kay Cannon and directed by Avenue Q's Jason Moore; it's Bring It On crossed with Glee with an injection of Bridesmaids. It's not perfect, but it's a damn funny crowd-pleaser.

Anna Kendrick plays Beca, a world-weary freshman at Barden University who spends her free time making mash-ups on her DJ equipment. She didn't want to go to college in the first place; she wanted to head straight to Los Angeles to become a music producer. But her father (John Benjamin Hickey) insisted on college, and in particular the one where he's a professor, meaning it would be free. Barden is an a cappella powerhouse, with two out of four of its groups having made the national championships. The men's group the Treblemakers always wins, while the women's group the Bellas was humiliated at the previous championship when Aubrey (Anna Camp), it's now-leader, vomited during her solo.

This year is for rebuilding, and Aubrey and her friend Chloe (Brittany Snow) aggressively recruit a new group, scoring a motley crew of weirdoes, including a very reluctant Beca, "the best singer in Tasmania" who named herself "Fat Amy" (Rebel Wilson), and a girl named Lilly (Hana Mae Lee), whose voice is barely audible. Aubrey is desperate to beat the Treblemakers at nationals, but despite Beca's very good advice, insists that the Bellas repeat the boring, staid, safe routines the group has been known for. Meanwhile, one of the new freshman Trebles (Skylar Astin) is wooing Beca, and the Treble's amazingly obnoxious and arrogant leader Bumper (Adam DeVine) finds perverse joy in the Bellas' problems and failures.

Since Pitch Perfect is a genre film, it doesn't stray from the expected plot turns. The surprises come from three places: the jaw-dropping jokes Cannon has her minor characters (like Lilly) utter; wondering just how Wilson, who seems to have improvised half her lines, is going to steal the scene this time; and how the a cappella groups are going to figure out how to vocally arrange songs like "No Diggity," "Right Round," and "Price Tag."

Cannon's witty and quietly absurd screenplay attracted a cast unheard of in a movie of this genre: Anna Kendrick was nominated for an Oscar for Up in the Air, Rebel Wilson also stole scenes in Bridesmaids, Anna Camp has had major roles on True Blood and The Good Wife, and Elizabeth Banks and John Michael Higgins, as the competition judges, are major comic actors. Jason Moore nicely handles this cast, the comic timing needed for Cannon's sharp script, and the many musical numbers. I do wish that those numbers and the songs chosen for them had been more interesting, inventive and surprising, rather than being so obvious and Glee-ish. But that is a minor quibble for a movie that is so much fun.