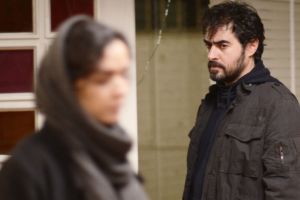 Outside of cinephiles who have seen his Oscar-winning A Separation, Asghar Farhadi is not well known among Americans. But his name was thrust into the news over the last few weeks because of President Trump's executive order banning travel of most anyone, but particularly Muslims, from seven majority Muslim countries. (The list does not include any majority Muslim country where Trump and his family have business dealings. Of course.) Because of the ban, Farhadi, who is from Iran, cannot travel to the United States for the Academy Awards, where his newest film The Salesman is up for Best Foreign Language Film; even if the stay of that order allows his visit, Farhadi is boycotting in protest.
There is a great deal of irony in preventing the director of The Salesman from attending the Oscars. By setting a suspenseful revenge drama among the cast of a Farsi-language production of Arthur Miller's Death of a Salesman, Farhadi entwines Iranian and American emotional and moral experience. That such a tale comes from Iran, described as part of the Axis of Evil by George W. Bush and repeatedly threatened with destruction by Trump, is situationally ironic in that it is the opposite of what many people expect from our supposed enemy. It's dramatically ironic in that Trump seems to have no clue whatsoever that Farhadi exists, that our most human complexities are universal or that both Iranians and Muslims are humans. (There are also the weird similarities between Miller's Willy Loman and Donald Trump, both delusion narcissists, but since Trump doesn't read, watch anything by Fox News or have the capacity for self-reflection, it's unlikely he could have made that connection.)
However, even if Farhadi is not attending the Oscars, The Salesman is in theaters across the country. (Trump will probably be unable to ban films made by Muslims, women or scientists, but no one should think he's not going to try.) Emad (Shahab Hosseini) is a high school teacher and actor who is playing Willy Loman in Death of a Salesman; his wife Rana (Taraneh Alidoosti) is playing Linda, Willy's wife. After their apartment building becomes physically unstable and is evacuated, they move into an apartment owned by one of their fellow actors. The owner neglects to tell them that the previous tenant was a prostitute, and shortly after Emad and Rana have set up house, one of her former clients attacks Rana while she is taking a shower and Emad is out buying groceries. At first Emad thinks she had just fallen, and then the neighbors who took her to the hospital tell him she was attacked. It's implied but never clear that she was raped, and Rana is too ashamed and traumatized to fully explain everything to Emad. All of this weighs on Emad as he seeks out the perpetrator and tries to keep calm while he is portraying Willy Loman each night.
The film is ingenious in its pacing and its use of Arthur Miller. The tension is slowly increased through misdirection, ambiguities and a smart lack of a score that would indicate what emotion we're supposed to feel or expect. I had no idea what was about to happen at any point in the film, particularly in the last act when Emad seems to have found Rana's attacker. In an American film, the revenge would be brutal (see: Prisoners, Kill Bill, Enough), but Farhadi flips the genre on its back and makes the emotions, but not the action, violent.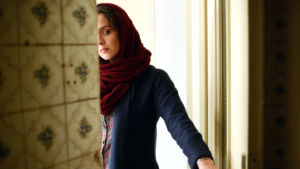 Death of Salesman seems to have no clear connection to the film's plot until the last 20 minutes. Then, Miller's commentary on obligation, illusion, sacrifice and failure are reimagined through Emad and Rana's acting out of their moral duties as well as an American play. If there is any justice, publicity over Farhadi's absence from the Academy Awards will lead American audiences to experience his art and his insight into America's greatest drama.
The Salesman (original title: Forushande)
Written and Directed by Asghar Farhadi
Starring Shahab Hosseini, Taraneh Alidoosti and Babak Karimi
Rated PG-13
In Farsi with subtitles
Originally published in LGBT Weekly