This year's Golden Teddy Awards for Most Excellence in Movies starts with the list of my ten favorite movies of 2014 from LGBT Weekly and then goes into choices for excellences in various Oscar-ish categories as well as things like "prop chomping" and  "dystopian art direction." It's not quite as absurdly long and detailed as previous years, but I don't have that kind of time anymore. And I've been sick. So there.
Honorable Mentions: Locke, Foxcatcher, Begin Again, The Homesman, Captain America: The Winter Soldier, Love is Strange, Interstellar, Gone Girl, The Way He Looks, Guardians of the Galaxy, Pride, The Imitation Game, and Whiplash.
Most Excellence in Being Amazing in a Lead Role: Julianne Moore is heartbreaking as she vanishes into Alzheimer's in Still Alice and hilariously frail as an aging starlet in Maps to the Stars; Tilda Swinton is an incandescent vampire aesthete in Only Lovers Left Alive; Tom Hardy is heroically ethical in the monologic Locke and heroically criminal in The Drop; and Jake Gyllenhaal is the best sociopath since American Psycho in Nightcrawler.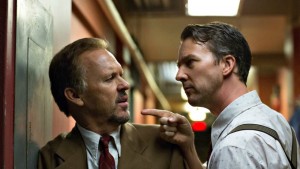 Most Excellence in Being Amazing in a Supporting Role: Ed Norton is hilarious as the maniacal narcissist in Birdman; Emma Stone has insight and charm for days as the Birdman's daughter in Birdman; Ethan Hawke is a haphazardly responsible dad in Boyhood; Laura Dern glows in Wild; Tilda Swinton is a toothy and hilarious postmodern Eichmann in Snowpiercer.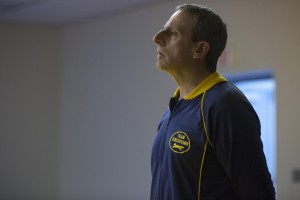 Most Excellence in Prop Chomping and Scenery Munching: Steve Carell's prosthetic makeup and WASPy speech impediment are intermittently hilarious and pedophile-creepy in Foxcatcher; Meryl Streep is witch-tastic as the Witch in Into the Woods; Bryan Cranston is CRAZY! as the MAD! scientistic who is actually SANE! in Godzilla; the crazy ladies of The Homesman screech their psychopathologies, play with dirty dolls, and stare off into space.
Most Excellence in Dystopian Art Direction: Since not one of the many scifi dystopias this year depicted a particularly original world, no one wins. Snowpiercer wins an Honorable Mention for the gorgeous, Fauvist, idiosyncratic train, which was brilliant but looked more like a Terry Gilliam film from 1980s than a vision of the future. Tied for Dishonorably Cliched: Dawn of the Planet of the Apes, Divergent, Interstellar, and The Hunger Games: Mockingjay, Part 1.
Most Excellence in Unbelievable Homosexual Hair: Dominic West in Pride. It's cute movie but only truly interesting because the queer activists helping the striking miners in Thatcher's early 1980s plot is true. Otherwise, it's just Harvey Milk joins the cats of the The Full Monty, and not in a good way. West plays Jonathan Blake, one of the Britain's longest surviving people with HIV, and he's not remotely convincing as disco queen, partly because of his affect, mostly because of his hair, which is just ew.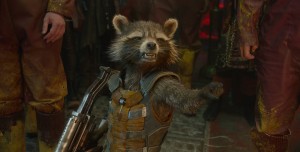 Most Excellence in Superheroics: Rocket Raccoon. Because he's a fucking raccoon space pirate. Chris Pratt is awesome in so many ways except for being a raccoon, which he's not. And Rocket Raccoon is.
Most Excellence in Making Things Difficult for Movie Reviewing: The Los Angeles publicists who make it so very difficult for me to review movies. You don't know who you are because you don't even read my emails.