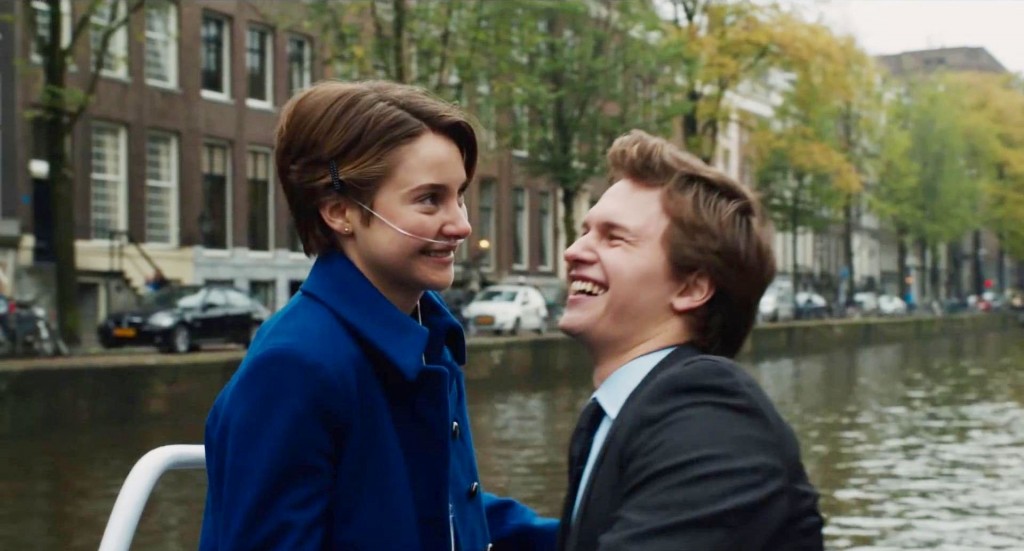 I am not ashamed to say that I cry easily. I can dissolve into tears while listening to an NPR story about school reform, a play about climate change, or while watching a bad TV show kill off a character that I only kind of liked. Yes, tears streamed down my face during that Glee episode about Finn's death. I don't get mad when I cry during a bad movie – at Michael Keaton's Ghost for kids, Jack Frost, for example — because I know that the movie isn't doing any work, but rather some image or line or situation is triggering an old emotion. However, I do appreciate it when the work justifies my emotional outburst, when screenwriters construct characters that deserve both my love and sadness and when directors resist the temptation of easy sentimentality and instead attempt profound pathos. The Fault in Our Stars, the hugely successful tearjerker starring Shailene Woodley and Ansel Elgort, earned my tears, even if the filmmakers took a few shortcuts to get them.
Unless you've managed to ignore all of the advertising and hype surrounding the movie, you know that The Fault in Our Stars is a story about kids with cancer. The narrator is teen-aged girl with wry wit and ponderous emotions named Hazel, who is played by the preternaturally gifted Shailene Woodley. At 13, Hazel had thyroid cancer that spread to her lungs. While the tumors are gone by the time the story begins, her lungs are still damaged, and she must cart around a tank that pushes oxygen through tubes into her nose. Her parents (Laura Dern and Sam Trammell) are concerned that she spends too much time alone and moping, so they encourage her to join a support group for teens with cancer. Though she is resistant, she goes and meets a tall, cocky, very sardonic boy who'd had much of his right leg amputated when he'd had "a touch of cancer" the year before. Augustus is played with young John Cusack charm and River Phoenix depth by Ansel Elgort, who played Woodley's on screen brother in Divergent.
They start spending a great deal of time together, with Augustus courting a wary Hazel and them bonding over their love for a novel about a young girl with cancer written by a now reclusive man in Amsterdam. When Augustus finds out that Hazel used her Genie wish – a wish given to kids with cancer, like those from the Make a Wish Foundation – to go to Disneyworld when she was 13, he decides to use his wish to go to Amsterdam with Hazel and meet the reclusive writer and find of what happened to the characters in the book they love. When Hazel ends up in the hospital, she dumps Augustus because she doesn't want to hurt him. Despite that and despite the difficulties in traveling with barely functioning lungs, Augustus, Hazel, and Hazel's protective, insanely understanding mother go to Amsterdam. The writer is not who they imagined, and as played by a typically unhinged Willem Dafoe, he is the catalyst for two major changes in Hazel and Augustus's relationship.
I won't reveal what happens in the next 30 minutes of the film, but suffice it to say that if you have a heart, you will cry. Director Josh Boone does overuse several tropes to egg on our emotions, including somewhat treacly music and dreamy montages of happy memories. But both Hazel and Augustus eschew the trappings of tragedy, with Hazel mocking cancer story genre conventions in her narration and Augustus making numerous jokes about cancer, often at his own expense. Hazel and Augustus are not raging against the dying of the light, as most characters in these sorts of stories do. Rather, they ponder the meaning of their lives and how they will be remembered while they stumble through frustration, illness, grief, fear, and adolescence. The surprisingly philosophical and yet utterly believable dialogue comes from Scott Neustadter and Michael H. Weber adapting John Green's novel, but it is ultimately the delivery of the lines with phenomenal empathy and naturalism by Woodley and Elgort that set off my tears.
The Fault in Our Stars
Directed by Josh Boone
Written by Scott Neustadter and Michael H. Weber
Starring Shailene Woodley, Ansel Elgort, and Willem Dafoe
Rated PG-13
At your local multiplex