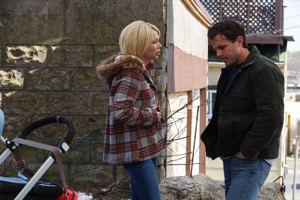 A few months ago, an acquaintance dismissed an entire swath of acclaimed American films as "sad white people movies." In the sense that they are about various Caucasians who aren't happy, sometimes for existential reasons and often for tragic ones; movies like In the Bedroom, The Savages, or Sideways are, yes, about sad white people. (You could also go back to Mildred Pierce, Alice Doesn't Live Here Anymore, and Ordinary People). Not everyone likes to be challenged emotionally or intellectually in the movie theater, and there's certainly a thread of whining in some of these movies.
But what these movies do, along with allied genres in the modern novel or on TV shows like Mad Men and Six Feet Under, is show us people who find their way through their grief, anguish, anger and fear. They don't always do it elegantly or kindly, but the stories encourage a collective understanding and a broadening empathy, and they help us understand our own emotions. Manchester by the Sea, this year's sad white people awards contender, is a masterpiece of the genre.
Kenneth Lonergan, whose two previous films You Can Count of Me and Margaret, are also sad white classics, writes about grief, family and love with great insight and humor, earning our tears and laughs rather than suckering us into giving them up. In Manchester by the Sea, his protagonist is Lee Chandler (Casey Affleck), a handyman who is suddenly shouldered with the responsibility of parenting his nephew Patrick (Lucas Hedges) after the expected but still agonizing death of Lee's brother Joe (Kyle Chandler).
The sympathy for Lee is greater than for Patrick, because Lee has suffered more than anyone – and we don't know why until his divorce from Randi (Michelle Williams) is explained. He doesn't handle his sadness any better than the average person; he gets into fights when he's not performing a stereotypical New England stoicism. Even though Lee is preternaturally a good father, his past makes him terrified and resistant, and when he discovers that Joe meant him to take care of Patrick, he balks. Patrick, a self-possessed, witty, girl-crazy 16-year-old, does his best to hold it all together, but he's 16, and he's been asked to handle a lot, what with a dead father and a missing, alcoholic mother (Gretchen Mol).
Lonergan is particularly adept at mixing a sarcastic wit with unflinching emotion, and his writing and direction in Manchester are as smoothly beautiful as they are emotionally pointed. Lonergan made Mark Ruffalo a star – first in the play This is Our Youth and then in You Can Count on Me – and Ruffalo's mannered, naturalistic, open wound sort of acting is what Lonergan demands. Casey Affleck's performance as Lee has less quirk, which makes him a better everyman; no one should have to experience what Lee has, and he manages as well as we would. When I cried (four different times), it was because I felt I knew Lee, hoped I could do as well as Lee, but wishing I never need to try.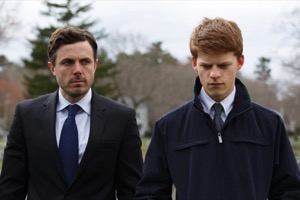 Young Hedges, who has the dual challenges of Lonergan's quick dialogue and numerous scenes with Affleck in full method mode, is flawless. Williams, arguably the great actress of her generation, has a beautiful, if wrenching scene toward the end of the film that makes her best moments in Brokeback Mountain seem as if they were done for a high school play. Williams excels at playing a sad white woman, and that is not to dismiss her, but to declare how essential she is to American film.
Manchester by the Sea
Written and Directed by Kenneth Lonergan
Starring Casey Affleck, Lucas Hedges and Michelle Williams
Rated R
At Landmark Hillcrest
Originally published in LGBT Weekly.