The Breathtaking Laurence, Anyways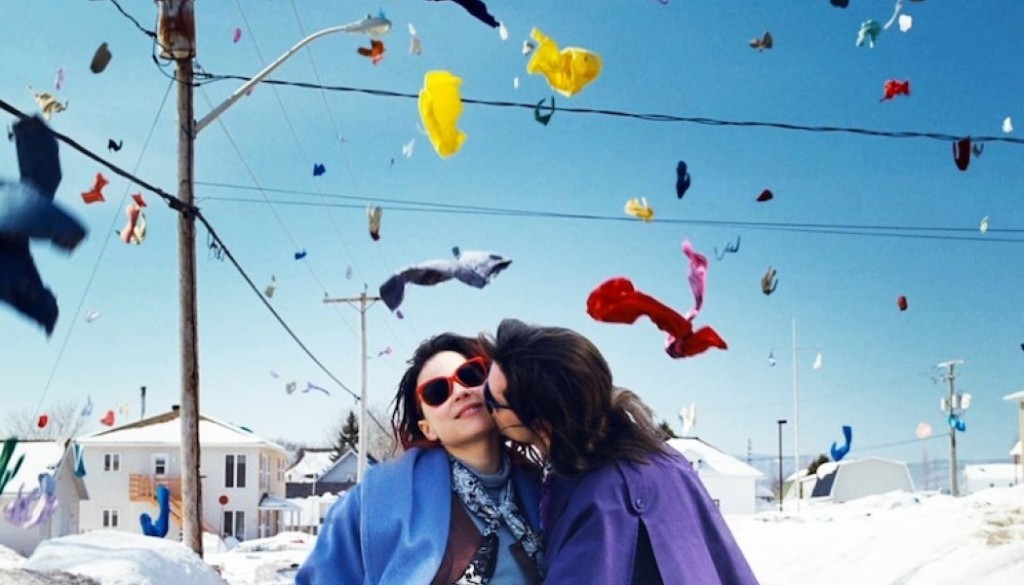 One of the first movies I reviewed for San Diego LGBT Weekly was Heartbeats, a stunningly beautiful update of Jules & Jim made by queer Quebecois wunderkind Xavier Dolan. It lasted in San Diego for about a week; I am still the only person I know who has seen it. His next movie Laurence, Anyways won awards at festivals all over the world, including Un Certain Regard Best Actress at Cannes and Best Canadian Feature at the Toronto Film Festival. And yet it never made it to San Diego, or anywhere else in the United States besides New York and Los Angeles. It is now on DVD and On Demand, which is how I watched it, in awe, breathless, and finally in tears, not only because of its bittersweet ending but also for its visual, aural, and thematic splendor. Xavier Dolan is one of the world's great directors, and outside of Canada and France, almost no one knows who he is. And the guy is only 24.
Laurence, Anyways is the story of lovers Laurence and Fred (short for Frederique) over ten years, from 1989 to 1999, as they weather Laurence's transition from man to woman. Unlike some of the best-known transgender film narratives, like Boys Don't Cry and TransAmerica, Laurence, Anyways isn't simply focused on acceptance, discrimination, and honesty, but rather on the enormously complex and painful ramifications of the transition on relationships. Laurence and Fred are still in love, even after Laurence reveals that he has always been a woman trapped in a man's body. But Fred does not know how to be in love with a woman, and Laurence doesn't know how to stay being a man to be with her.
My initial description of Laurence, Anyways was that it seemed to be a transgender The Way We Were. But the latter film was designed to appeal to a mass audience: huge movie stars, risk-less filming, easy emotions. While I'm sure Dolan wants his films to be seen by millions, he clearly is uninterested in pandering to them. His screenplays require work from the audience, with the kind of spoken and obvious verbal exposition ("I had an affair") left out in favor of expressionistic tableaus set to iconic songs. In one turning point, Fred wears a lace ball gown and literally floats through a glam rock black tie party while Visage's New Wave classic "Fade to Grey" plays. At another, Laurence and his mother are barely visible silently talking under an umbrella, the sound and sight of symbolic pouring rain dominating the shot. I was watching the film on DVD and rewatched several of these scenes, muttering "Oh, my God" over and over.
Still, none of Dolan's visual flairs could work very well without actors as brave and raw as Melvil Poupaud (Laurence), Suzanne Clement (Fred), and Nathalie Baye (Laurence's mother). Poupaud who is handsome both as man and a woman does the requisite slow transition from masculine to feminine fretfully, subtly, and then finally confidently. His turns as ashamed, impish, despairing, furious, and enamored are all equally nuanced, sympathetic, and believable. Clement is a much more bombastic actress; her Fred feels everything without control or modulation. Dolan shows her rage and sorrow and glee with quick, kaleidoscopic cuts. The scenes sometimes seem like cubist depictions of emotions. Clement's performance is the emotional heart of the film, as her love for Laurence is much easier to depict and understand than Laurence's need to be a woman. That need is confusing for many characters, not just Fred, but also Laurence's mother, a profoundly cold woman who provided little to her son until he became her daughter.
The movie is long – two hours and 45 minutes – and in that space, I think Dolan and Poupaud make a few missteps, mostly in communicating Laurence's impetus to decide to transition. This could have been glossed by wordy exposition, but that's not what Dolan does. And thank God, because what he does do is so extraordinary.
Laurence, Anyways
Written and Directed by Xavier Dolan
Starring Melvil Poupaud, Suzanne Clement, and Nathalie Baye
Unrated
On Demand and on DVD