The little men steal this show
Originally published inLGBT Weekly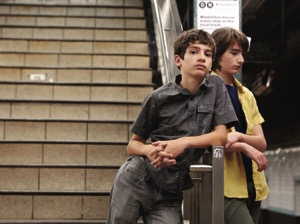 Michael Barbieri and Theo Taplitz in Little Men
Ira Sachs, the director of the acclaimed gay films Keep the Lights On and Love is Strange, is a subtle filmmaker. There's nothing flashy in his shots or his dialogue, and he doesn't push his actors to histrionics; his movies are naturalistic portrayals of real people struggling with family duty, class, aging and love. With the title of his latest, Little Men, I assumed Sachs had made a movie about teenage boys in some kind of love, or possibly a modern-day adaptation of the Louisa May Alcott novel. Rather, it's about friendship, real estate and guilt, with Sachs' usual gay themes absent or sublimated. Little Men is perhaps too realistic to be satisfying, but it is nevertheless wise, moving, and impeccably made.
Jake (Theo Taplitz) is the artistic, awkward 13-year-old son of Brian (Greg Kinnear), who is a struggling actor, and Kathy (Jennifer Ehle), whose psychotherapy practice pays the bills. When Brian's father dies, the family moves into his building in Brooklyn; they live on the second floor, over a dressmaker's shop on the first. Chilean Leonor (Paulina Garcia) is the tenant, and she also has a 13-year-old son, Tony (Michael Barbieri), who has a striking Brooklyn accent and is as extroverted and jocular as Jake is reserved and introverted. When they meet after the funeral, Jake and Tony become fast and best friends. They initially bond over video games, but then Tony, who aspires to be an actor, is immensely impressed with Jake's artistic abilities, and Jake is drawn into Tony's social life, if tentatively. They skateboard together, take acting lessons together and hang out constantly. They are both at the age just before brooding, self-aware adolescence, when things like cliques, class and status have yet to be understood.
Meanwhile, Brian and his sister Audrey (Talia Balsam) discover that their father was charging Leonor an incredibly low rent, low in general, but even lower in the context of the gentrifying neighborhood. In need of money, they triple Leonor's rent. Brian is racked by guilt, not only because of Jake and Tony's friendship but because Leonor tells him that his father and her were close, much closer than he was with his children, and would have wanted her to pay what she could. In order to get their parents to work something out, Jake and Tony refuse to speak to them, which, as most teenage manipulations do, doesn't help matters. Things don't go the way that most films would go, in that the ending is neither happy nor tragic, but recognizably bittersweet.
While the film is quiet, the emotions are intense, especially if you can identify with the boys, who are singular creations but also types we've all known – or been. While the adults are portrayed by major actors – Kinnear the most famous to film audiences, Ehle a major theater star, and Garcia one of the greatest actors in Spanish language cinema – but they are really support for the two boys, both astonishingly talented. Taplitz seems more studied in his oddities, but he is also remarkably at ease in difficult emotional scenes. Barbieri is so natural that it's hard to believe he's acting, let alone aware he's being filmed. He has a scene in an acting class, in which he's mimicking his teacher, that is thrilling.
The adults are great, too, but they aren't given as much to do that is interesting. Kinnear is always just fine, but Ehle and particularly Garcia are among the world's best actresses, and I was hoping for a bit more excitement from them and their roles. But that's not what Sachs does. He gives us reality, which isn't always the most exciting thing to watch, even if it's deeply meaningful.
Little Men
Directed by Ira Sachs
Written by Ira Sachs and Mauricio Zacharias
Starring Theo Taplitz, Michael Barbieri and Greg Kinnear
Rated PG
Opens at Landmark Ken Sept. 9
Powered by WPeMatico