This sequel is just a reminder of a much better movie
Originally published inLGBT Weekly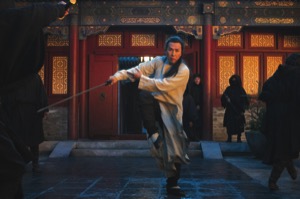 Donnie Yen in Crouching Tiger, Hidden Dragon: Sword of Destiny
Crouching Tiger, Hidden Dragon is one of those movies that everyone likes. The seamless blend of ground-breaking martial arts action, two epic love stories, feminist character arcs, high art visuals, gorgeous music and the great director Ang Lee made the film beloved of everyone from teenage action fans to cineastes, men and women, boys and girls. More than once, I was told seeing it was like seeing Star Wars for the first time – revelatory. Even though the film is based on the fourth novel of The Crane-Iron pentology by Du Lu Wang, no one seriously suggested that Ang Lee make the prequels or a sequel. But the Weinstein Company is never one not to see branded opportunity, and 15 years later they decided to make a film based on the fifth of Wang's books, Iron Knight, Silver Vase, and release it on Netflix and in theaters simultaneously. (Most theaters balked.) Despite hiring Woo-Ping Yuen to direct and convincing Michelle Yeoh to reprise her iconic role as Shu Lien, Crouching Tiger, Hidden Dragon: Sword of Destiny is forgettable, mostly pleasing as a reminder of a much, much better movie.
Sword of Destiny takes place 18 years after the first film, and its plot is just as complex. Shu Lien is travelling to Peking to attend the funeral of Sir Te, who had been keeping safe the Green Destiny, the sword at the center of the previous film. It had been owned by Mu Bai, who had died at the end of the first movie and who Shu Lien had been in love with; they could not be together because of Shu Lien's arranged marriage by Meng Sizhao. The night that Shu Lien arrives in Peking, Wei Feng (Harry Shum Jr. from Glee), a young man sent by the evil warlord Hades Dai (Jason Scott Lee) of the White Lotus, tries to steal the sword. He is stopped by Snow Vase (Natasha Liu Bordizzo), who has a long-ago connection to Wei Feng. Shu Lien agrees to train Snow Vase and sends out notice to the countryside that warriors who follow the Iron Way are needed. Meng Sizhao, long thought dead, forms a small troop and comes to Peking, where Shu Lien is flabbergasted by her former fiancé's return. Assassins arrive, witches cast spells and increasingly epic battles are waged before Iron Way warriors confront Hades Dai and the White Lotus.
The major themes from the first film are revisited in Sword of Destiny: the powerful bond of the student and teacher and how honor intensifies the problem of love. But where in the original film these were carefully and beautifully examined by Ang Lee through nearly swoon-worthy acting by Yeoh, Chow Yun Fat, Zhang Ziyi and Chang Chen, there's nothing as heartfelt or moving in Sword of Destiny. John Fusco's dialogue strains to be profound and grand, but it sounds cheesy and false, particularly since it's spoken in different English accents, when it should be in Mandarin Chinese, as the film takes place in China around 1800.
Woo-Ping Yuen's skills lie in his fight choreography. The battles in Sword of Destiny are fantastic, beautifully acrobatic and balletic. But since they rely on the revolutionary style of the first film, the fights are not shocking, even if some are thrilling. The film's beauty is obvious, but that is not enough to match Ang Lee's 2000 masterpiece.
Crouching Tiger, Hidden Dragon: Sword of Destiny
Directed by Woo-Ping Yuen
Written by John Fusco
Starring Michelle Yeoh, Donnie Yen and Harry Shum Jr.
Rated PG-13
Powered by WPeMatico