Tyler Perry's retrograde world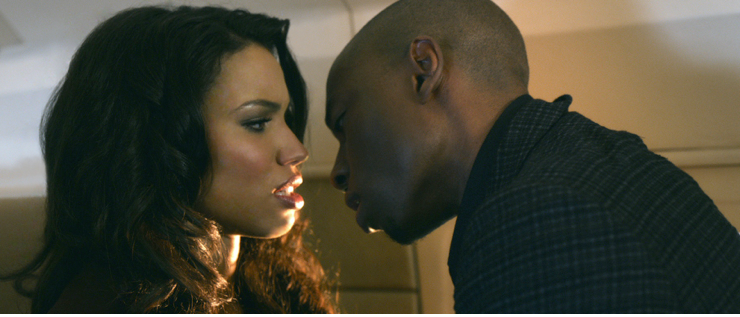 Before I delve into the Tyler Perry's hysterically moralistic potboiler Temptation, I need to tell you I am going to spoil the plot in this review, because in order for you to know just how awful the movie is, I need to let you know about its ending. You've been warned.
Like most of Perry's movies, Temptation is focused on middle-class African-Americans; he's best known for his broad comedies starring his drag alter-ego Madea, but this is one of his melodramas. The plot is rather simple. Judith (Jurnee Smollett-Bell) is married to her childhood sweetheart Brice (Lance Gross). ("If smiles were dollars, they'd have millions." It's an actual line.) They live in Washington, DC, where Brice is a pharmacist and Judith is using her marriage counseling degree as the in-house therapist at a high-end matchmaking service run by Janice, played by a bizarrely French-accented Vanessa Williams. Oh, and Kim Kardashian works there, too. She says things to the supposedly fashion disastrous Judith such as, "A degree on your wall without labels on your back is nothing." Entitled, ambitious, holier-than-thou Judith doesn't like working there.
One day, a wealthy tech tycoon arrives at the office interested in investing. Janice assigns an eye-rolling Judith to work with Harley (Robbie Jones). He is charming, aggressive, rich, and very different from Brice, who, as we are told possibly 53 times, takes Judith for granted. Obviously, she's going to sleep with Harley, and it's so, so, so obvious that he's bad news. When I saw the movie, everything Harley said to seduce Judith was met with "Oh, no, girl!" responses from the audience. But when Judith opened her mouth slightly and started breathing heavily is response to Harley's obnoxious flirting, we knew she was going to throw everything away – including Brice, her faith, her comfortable shoes, and her self-respect – and take that billionaire for a ride. Which she does on his private jet. After he basically date rapes her. In Tyler Perry's world, no still means yes.
Once she settles in as Harley's girlfriend, she is transformed: Into evil! We know this not only because she start dressing like Kim Kardashian, with sexy heels the height of a small skyscrapers and sexy glittery pants and sexy bouncy hair, but she also betrays – in addition to Brice, of course – her God-fearing mother (Ella Joyce), and then Janice. She does all of this with a constant sniffle. Because she's doing cocaine now. Because that's what bad people do in Tyler Perry's world.
With a morality tale set up like this, you can only assume Judith will get her comeuppance. And how. While Harley is beating Judith into submission, Brice discovers that the man stalking his cashier Melinda (Brandy Norwood) is Harley, who – brace yourself – gave Melinda HIV. And, we discover, in the scene after Brice carries Judith battered and bruised body from Harley's house, that Harley gave it to Judith, too. Judith, you see, is telling this story to one of her clients, who is cheating on her husband. After hearing this tale, the client says she will immediately dump her boyfriend and fix things with her husband. Then we watch Judith hobble over to the pharmacy and pick up her meds. Brice, aged with a terrible gray wig, has a new wife and son. The credits roll as Judith awkwardly shuffles down the sidewalk, heading to meet her mother at church. In Tyler Perry's world, HIV gives you a limp.
Temptation would be more offensive if it weren't so poorly directed, so badly acted, and so, so dumb. Nevertheless, using HIV as punishment for bad behavior or as a result of weak morals is still offensive. It's a virus. Stigmatizing it only prevents people from getting testing, admitting they have it, and going to get treatment. So, I say to Tyler Perry what Judith's mother said the Brice when he told her he forgot Judith's birthday: "You need your ass whipped. That's the King James version."
Tyler Perry's Temptation
Written and Directed by Tyler Perry
Starring Jurnee Smollett-Bell, Lance Gross, and Robbie Jones
Rated PG-13
At your local multiplex