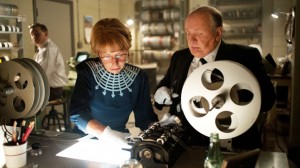 More fun that a shower full of psychos. (And the LGBT Weekly link is here.)
Few directors have had a run of brilliance that Alfred Hitchcock had in between 1958 and 1963, when he directed in successionVertigo, North by Northwest, Psycho and The Birds; four of the greatest films ever made.
But surprisingly, Hitchcock was still racked by self-doubt during that period, terrified that he was not good enough; that he was being surpassed by younger directors; that he would never be accepted and praised by his peers.
It is the middle of this period, during the making of Psycho, that is the focus of Sacha Gervasi's delightful movie about Hitchcock (Anthony Hopkins) and his wife Alma Reville (Helen Mirren), a screenwriter with whom Hitchcock collaborated on every film he made, whether she was credited or not. Continue…