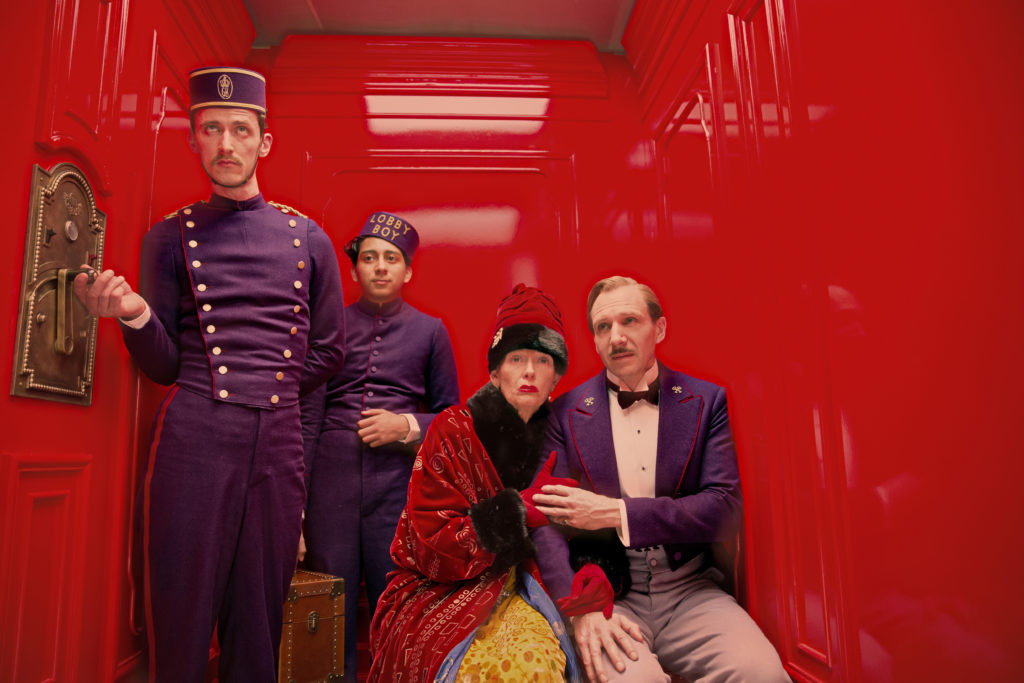 I struggled to start writing this review because I wanted to communicate as powerfully, as effectively as possible how much I loved Wes Anderson's eighth feature film The Grand Budapest Hotel. Luckily, I don't have the same degree of difficulty when I write a review as Wes Anderson has when he makes a movie. He can't start with a character – or himself – saying, "I am making a bittersweet comedy about love and honor." However, Anderson does do something similar: He begins in the near present day with a writer (Tom Wilkinson) describing how he found the story he's about to tell. It's a common misperception, he tells us, that writers are constantly creating new characters, new scenes, new plots. Rather, when you become a writer of some note, people tell you their stories.
Suddenly, it's 1965, and the writer is now played by Jude Law, and he's spending a vacation in the Grand Budapest Hotel, a once sparkling and ornate playground of the rich and famous of the fictional nation of Zubrowka in Eastern Europe, now a mostly deserted, very Sovietly decorated shell of its former self. It is there, while soaking in the dilapidated baths, where he meets to hotel's mysterious, aging owner, Mr. Zero Moustafa (F. Murray Abraham), who proceeds to tell the writer over dinner how he came to own the hotel, and we're transported back to 1932.
The hotel is now in its heyday, packed with suited dignitaries and their bejeweled wives, and the regimented staff is legion; over all of it presides the hotel's slightly foppish and nearly over-competent concierge M. Gustave, played by a miraculous, David Niven-inspired Ralph Fiennes. Gustave is not only devoted to his hotel, but also to the numerous lonely older women who frequent it, and his favorite is Madame Desgoffe-und-Taxis (Tilda Swinton), an 84-year-old countess who adores Gustave. As she leaves the hotel, she is convinced she will never return, and Gustave assures her she will. She asks him to light a candle at the nearby cathedral, and after she leaves, he tells the closest lobby boy to do it.
This boy is Zero (Tony Revolori), who has just started work at the hotel. Gustave takes the boy under his wing, training him like a stern, loving uncle. When the countess dies, Zero accompanies Gustave to the reading of the will, when it turns out Gustave will inherit a priceless paining, Boy With Apple. The countess's dastardly son Dmitri (Adrian Brody) is livid, demands that this never happen, but with Zero's encouragement and help, Gustave steals the painting and returns to the hotel.
Dmitri decides to frame Gustave for the countess's murder, and the rest of the film follows Gustave through prison, escape, and, as he and Zero try to clear Gustave's name, travels around Zubrowka, chased by the army and its leader Henckels (Ed Norton) as well as Dmitri's violent stooge Jopling (Willem Dafoe). Along the way, they're helped by numerous minor characters including Zero's girlfriend (Saoirse Ronan), Gustave's cellmates (including one played by Harvey Keitel), the countess's butler (Mathieu Amalric), and a network of concierges (Bill Murray, Owen Wilson, and Bob Balaban). As with every Anderson character, the actors are directed to such mannered behaviors as to be almost abstracted; they archly speak as if they have hopped out of a Roald Dahl or JD Salinger story, and they move like gorgeously drawn cartoon characters, sharply and exaggerated, influenced by slapstick and mime.
The result is the opposite of natural or subtle, but Anderson's direction, of actors and art and photography, communicates the themes and emotions – the sadness of nostalgia and growing up, the power of loyalty and courage – with something approaching grace. It's hard to say whether The Grand Budapest Hotel is Anderson's best movie, but it may be his first truly adult film, despite it being, at its heart, about a teen-aged boy.
The Grand Budapest Hotel
Written and Directed by Wes Anderson
Starring Ralph Fiennes, Tony Revolori, F. Murray Abraham
Inexplicably rated R