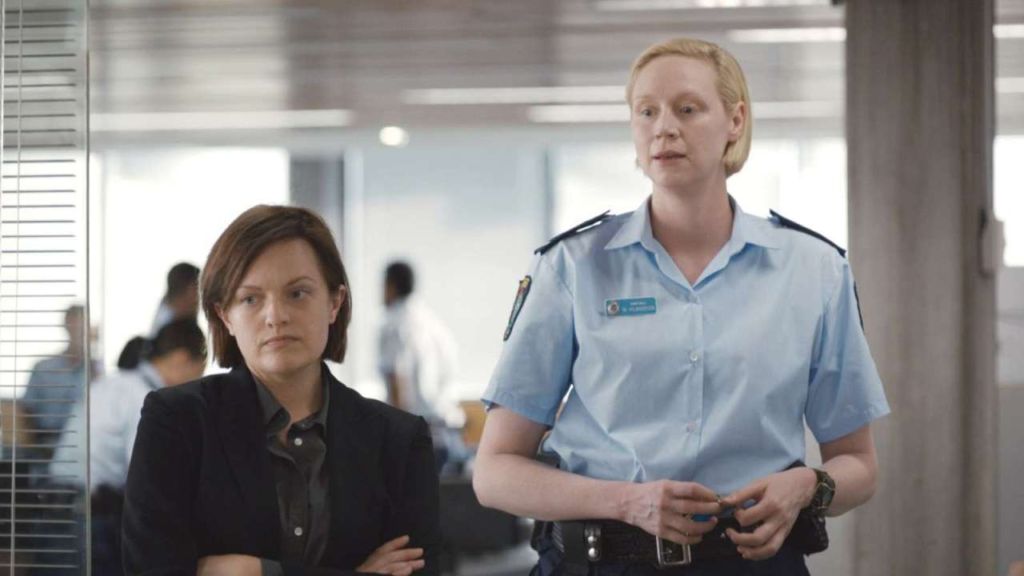 I could watch Elisabeth Moss do anything. A few years ago, at the height of her fame as proto-feminist Peggy on Mad Men, Excedrin started rerunning an old commercial she did for them, and it's utterly unlike anything else you might see on TV selling something; she could be doing a monologue from A Doll's House about aspirin. This summer, her turn as Offred in The Handmaid's Tale was exceptional, a performance of every emotion available, of a prototypical modern feminist who is trapped as a chattel in a misogynistic dystopia. Weeks after that show's season finale, she has returned as the determined and deeply damaged Detective Robin Griffin in Top of the Lake, Jane Campion's unnerving, disturbing, and gorgeous Australian police procedural. And, of course, Moss is amazing. She's having a year as good as Laura Dern and Nicole Kidman are; coincidentally Kidman is in Top of the Lake and is, also, amazing.
The new season took four years to show up, and it takes place not too long after the events in the first, when Robin broke up a pedophilia ring in New Zealand after various physical and psychological traumas. Robin wasn't whole in New Zealand, and back in Australia, the mess of that case and her messy past are haunting her, subtly in her waking life and violently in her sleep. Her fuse is short and her tolerance for bull very low. Her response to the casual sexism of the men in the police department is a seething restraint, and she relies on outbursts and beer to deal with it all
To Robin's annoyance, a needy fan in the department, played with sly comedic brilliance by Gwendolyn Christie, is assigned as her mentee and partner. Miranda is the near opposite of Christie's iconic Brienne of Tarth from Game of Thrones; Miranda is clumsy and unsure and undisciplined, and her lightness allows us respite from Robin's almost relentless agony. When they are assigned to deal with a horrific crime – a suitcase full of the ravaged body of an Asian prostitute washes up on Bondi Beach – Robin is drawn to the horror, and Miranda is horrified, if dutybound.
Meanwhile, a middle class 17-year-old Australian white girl named Mary (Alice Englert) is in love with an older, and very creepy, German man named Puss (David Dencik), who taught the victim and her friends English. At first Mary seems to be rebellious, acting out because her mother Julia (Kidman) has left her father Pyke (Ewen Leslie) for another woman. But then it becomes clear that Mary is more than just contrary; Julia, enraged and upset recognizes this, but Pyke, pretending to be OK with everything, denies Mary's deeper problems. And then we discover that Mary and Robin (and in turn, Robin and Julia and Pyke and Puss) are connected, and it's both narratively hard to believe and emotionally inevitable. Kidman, dotted with freckles and her front teeth given a wide gap, makes Julia unsettling to watch; she's angry and terrified and jealous and confused.
Campion, who won an Oscar for writing The Piano, writes troubled women better than anyone else alive, and Robin, Mary, Miranda and Julia are indelible and difficult and entrancing. They're so real as to almost be terrifying, but Campion seems to be doing more than showing the sad, agonizing result of violence, poverty and misogyny. She is showing us how they all survive, some better than others, sometimes with great struggle. Moss, who has created a body of work on TV in the last decade depicting how women can maneuver, escape, and even excel in terrible situations, is the perfect vessel for Campion's vision.
Top of the Lake: China Girl
Directed by Jane Campion
Written by Jane Campion and Gerard Lee
Starring Elisabeth Moss, Alice Englert and Nicole Kidman
On Sundance TV and Hulu
Originally published in LGBT Weekly