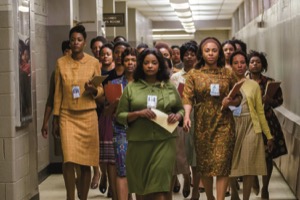 I learned most of my Space Race history from The Right Stuff, Philip Kaufman's excellent epic about the test pilots and first astronauts who propelled us into space. The movie is classic American hagiography, in which a bunch of brave white men risk life and limb for the glory of the flag. It's mostly accurate, though in adapting Tom Wolfe's book of the same name, liberties are taken. But even Wolfe's book, a massive bestseller and over 400 pages long, doesn't mention the dramatic and important role that Katherine G. Johnson, in particular, had in the success of John Glenn's historical orbit around the Earth.
Johnson not only made many of the key calculations involved in Glenn's unprecedented flight (with one done in very dramatic fashion), but she did it as a woman, a black woman and a black woman in 1963. It's possible Wolfe didn't know about Johnson. But Margot Lee Shetterly, who wrote Hidden Figures, the book about black women involved in the early space program, has pointed out that Johnson's role is clearly in the raw records at NASA; it just didn't make it into either version of The Right Stuff. With the delightful, crowd-pleasing film version of Shetterly's book, it will be impossible for her to remain hidden in the record.
In the film, Taraji P. Henson plays Katherine G. Johnson, a childhood math prodigy who works in the "colored computer" department at NASA. She carpools with two of her coworkers, Dorothy Vaughan, played by Octavia Spencer and Mary Jackson, played by Janelle Monáe. Before everyone owned plastic computers made by IBM or Apple, a "computer" referred to people who did the math. In the early days of NASA, there was a pool of black computers and a pool of white computers. It shouldn't be surprising that in the early 1960s, the colored computers had limited opportunities for advancement and suffered numerous indignities because of their race and gender.
Katherine is shown to be the meekest and nerdiest of the group, if also the smartest; when Dorothy is asked who of the computers that she supervised (in practice, if not by the title "supervisor") could handle the math for launch trajectories, she immediately points to Katherine. Dorothy is older, ambitious and constantly fighting for recognition. She's a little snarky under her breath, but Mary is snarky in full voice. Beautiful and, of course, brilliant, Mary throws out one wise quip after another, but thankfully her smart talk doesn't get her in too much trouble. Eventually, when she uses her wit carefully, she gets her heart's desire.
The three women struggle and face set-backs, but except for one brief moment on a blurry black-and-white TV screen, the kind of trouble we're used to seeing in films like Selma or 12 Years a Slave is wholly absent from Hidden Figures. Numerous injustices and moments of discrimination are shown, but it is the petty humiliation of black women being forced to use separate bathrooms that ends up standing in for the totality of structural racism. This is a PG film after all, and that's fine: This is a movie about civil rights that you can take your eight-year-old to, and that's a fantastic thing.
These kids and their parents are lucky, too. Director Theodor Melfi perfectly balances history, humor and sentimentality. Henson, Spencer and Monáe are all wonderful, seamlessly moving from light comedy to deep-and-meaningful drama. This is the bailiwick of both Spencer, who won an Oscar for The Help, and Henson, who was Oscar nominated for The Curious Case of BenjaminButton and has become a star in the high-camp soap opera Empire. Monáe is an R&B star who has only two acting credits (Hidden Figures and Moonlight), but she more than holds her own against her much more experienced co-stars, stealing every scene. Monáe, like Mary, refused to stay hidden.
Hidden Figures
Directed by Theodore Melfi
Written by Allison Schroeder and Theodore Melfi
Starring Taraji P. Henson, Octavia Spencer and Janelle Monáe
Rated PG
Originally published in LGBT Weekly.